Rocket Mortgage FieldHouse Information
Located in downtown Cleveland, Ohio, Quicken Loans Arena opened in October 1994 as part of the Gateway Sports and Entertainment Complex. Known originally as the Gund Arena, after former Cavaliers owner Gordon Gund, the name changed in 2005, and it is now affectionately known as "The Q". Originally the site of the Central Market, a fruit and vegetable market that dated back to 1856, work began in 1992 to build a replacement for the dilapidated Cleveland Arena.
The Q was unveiled with a concert by Billy Joel on October 17, 1994, and the Cavaliers played their first regular-season game in the arena a few weeks later.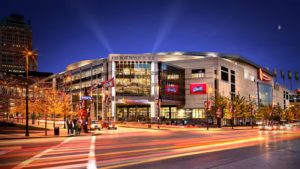 Since the arena was bought by Quicken Loans Inc. in 2005, The Q is now one of the largest and most contemporary arenas in the NBA, having undergone a $40+ million investment in renovations and upgrades, featuring new seats, state-of-the-art scoreboards, new lighting technology, enhanced sound system, remodeled team locker room and much more, funded by Quicken Loans chairman and founder Dan Gilbert, the majority owner of the Cavaliers, Monsters, and Gladiators.